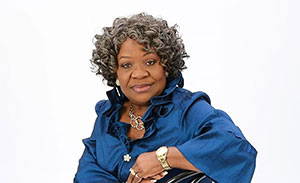 (The Reverend) Eve C. Rogers is a faithful disciple of the Lord Jesus Christ and an ordained minister of the Gospel of the Kingdom of God. Serving in the ministry office of teacher for over 35 years, this chosen vessel of the Lord serves in various capacities including as a revivalist, conference and retreat speaker, and as a sound, prophetic preacher of God's Word.
After having served as a deaconess, Bible Study teacher, and an Associate Minister in a local Baptist church for many years, Rev. Rogers affirmatively responded to the sure call of God upon her life into the pastoral ministry. In November 2007, this Spirit-filled teacher began walking into this awesome challenge and glorious privilege. She is the founder and pastor of New Dimensions Community Church, Inc. in Greenville, North Carolina. New Dimensions, a kingdom-focused ministry, is called and committed to advancing the kingdom of God through building Christian disciples and changing ordinary lives – through the Spirit of Grace and Truth, God's Word.
Walking in a compelling apostolic anointing, the mandate of God upon this servant-leader to help enlighten, equip, and empower the Body of Christ to kingdom living marks her life and ministry. As a dynamic, gifted teacher, she leads a weekly community Bible Study, "Word Alive" (Wednesdays at 12 noon and 7 pm); and leads "Eagle's Wings," Intercessory Prayer Ministry via telephone (Tuesdays at 7 am & 7 pm) that reaches across the nation. She recently began a weekly ministry-moment via Facebook, "Think On These Things." Speaking the truth in love and calling forth men and women to a life of holiness and wholeness through union in Christ is indeed this woman of God's passion and purpose – "for such a time as this."
A native of Greenville, Eve is a graduate of East Carolina University in Greenville, and the Justice Executives Program at the University of North Carolina in Chapel Hill, NC. Retiring in 2002 from the NC Department of Juvenile Justice & Delinquency Prevention, she received the prestigious Governor's award – the Order of the Long Leaf Pine. A certified, volunteer chaplain with the Pitt County Sheriff's Department, Rev. Rogers was recently recognized as Pitt County's 2017 Hometown Hero by TCP Magazine and Churches Outreach Network.
She continues to live in Greenville with her husband of over 44 years, (Deacon) Ray Rogers, and their adult daughter, Adeea – both of whom are fervent partners in ministry at New Dimensions. Availing herself to mentor and encourage others in their gifts and callings, Pastor Rogers is passionate about helping others find their place and fulfill their purpose in the "Kingdom of our God and of His Christ."